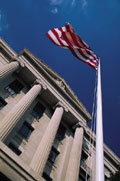 Getting Started
This website has been developed to provide easy access to the information you need frequently, as well as to legal resources within Forsyth County and the 31st Judicial District Bar.
Rollover the 5 top categories in Grey, to reveal principle navigation links.
Click on highlighted phrases for detailed information on that subject.
All links to information not in our site, will open an additional browser window, so you can get what you need, but easily return.
Newsletters & documents are available both online & via pdf downloads.
Attorney Locator can be searched by Name, Firm, or Area of Practice.
NEWS FLASH
Administrative Order, is attached, along with the new "Medical Malpractice Case Notification and Consultation" Form.

COURT HOUSE NEWS!